Comclinic™
Introduction
Tele-Health is a mode of delivering health care using Information and Communication Technologies (ICTs) to render the services of medical consultation, diagnosis and treatment to patients. Tele-health service is especially beneficial for resource constraint marginalized communities and populations living in far flung areas from large metropolitans/urban areas in terms of cost effectiveness, time saving and instant accessibility. Through Tele-health setup patients at basic health units can get specialist medical opinion from doctors at secondary/tertiary health care units.

Tele health is the key to optimize use of available resources through adoption of Information Communication Technology. It saves the physical costs of deploying resources and skills. Services of doctors based at one place can be utilized for examining and rendering advice to patients sitting far away in other remote areas, towns & villages. It can overcome the problem of scarcity of doctors as a paramedic/LHV supported by a data entry operator can run Tele health unit under the guidance of a doctor sitting at urban site.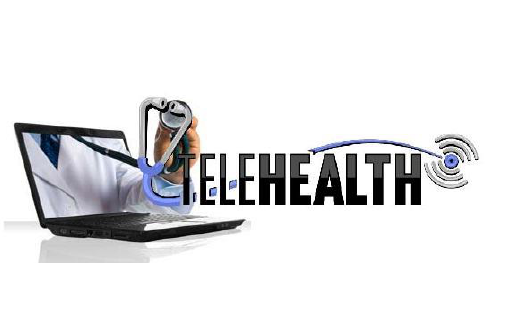 Tele-Health facilities at CIS
COMSATS Internet Services (CIS) Islamabad has executed a pilot project on "Establishment of Tele-health Clinics Networks". At present, 12 rural Tele-health clinics have been established and these are operating at BHU Gokina&MehraBehri (Islamabad), BHU Dagai (Swabi), BHU Wahdat colony (Quetta), BHU Maraka (Lahore), BHU Muzafarbad&Chak5faiz (Multan), BHU Sangu (Peshawar), BHU Shadoband (Gwadar), BHU Ubhri (Khairpur), BHU Kingri (Musakhail) & Tele Health CenterMediterina (Rawalpindi). These clinics are connected via dedicated internet with CIS Tele Health Centre, Islamabad where a panel of doctors/specialist is available for medical consultation to the patients visiting these clinics. These clinics are equipped with latest means of video conferencing, computer systems, and Tele health equipment such as digital stethoscope, vital signs monitor, examination camera, ultrasound probe, ENT scope, ECG gloves etc. Similarly patient's data is maintained on CIS developed web portal. More than 45,000 patients have been examined and advised.
Methodology
Tele-Health service by CIS is carried out by using the latest means of video conferencing. Paramedic staff at the connected Tele-health clinics, assist the medical specialist at the Tele-health Resource Centre to carry out initial checkup of the patient using digital equipment such as: digital stethoscope, vital signs monitor, examination camera, ultrasound probe, ENT Scope, ECG Glove, etc. Patient data collected during the initial checkup by the paramedic staff can be viewed simultaneously by the doctor at CIS Resource Centre in Islamabad. The doctor then provides medical consultation to the patient and transmits prescription to the remote end, a print out of which is given to the patient by the paramedic staff. Computerized database of patients and their medical history is maintained at the Centre where dedicated computer server with sophisticated peripheral devices and software is installed. Patient that require further examination and treatment are at times also referred to the nearby hospitals. Data of such patients may be transferred to the referral hospital for guidance as per the advice of the doctors.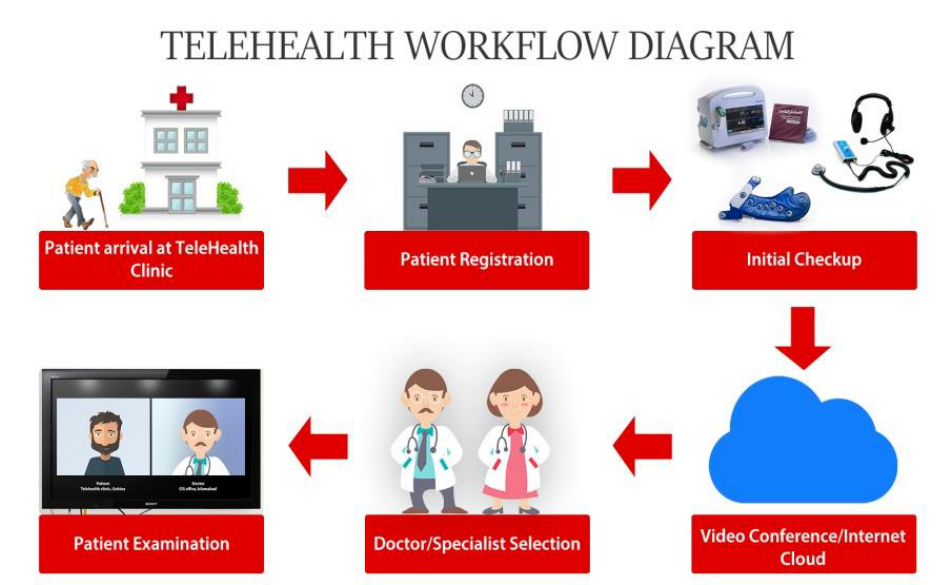 Technology and Equipment
Each Tele-health clinic is provided with wireless Wi-Fi Internet by linking the clinic to the nearest CIS Internet node. ICT infrastructure, other than CIS, is also used, wherever required. A pair of towers (multiple in case of complicated geographic location) is installed at appropriate places to achieve line-of-sight between the CIS base-station and the clinic. CIR Internet connectivity of 2Mbps is provided to the clinics to carry out high quality video conferencing between the Resource Centre and the Tele-health clinics. Each Tele-health clinic is fully equipped with latest medical devices and equipment, laptop/desktop computers, scanners and printers. To ensure electricity backup at the Tele health clinics, solar panels, UPS and generators are installed. Operations and maintenance of all this equipment of multi-disciplinary nature is managed by CIS experts.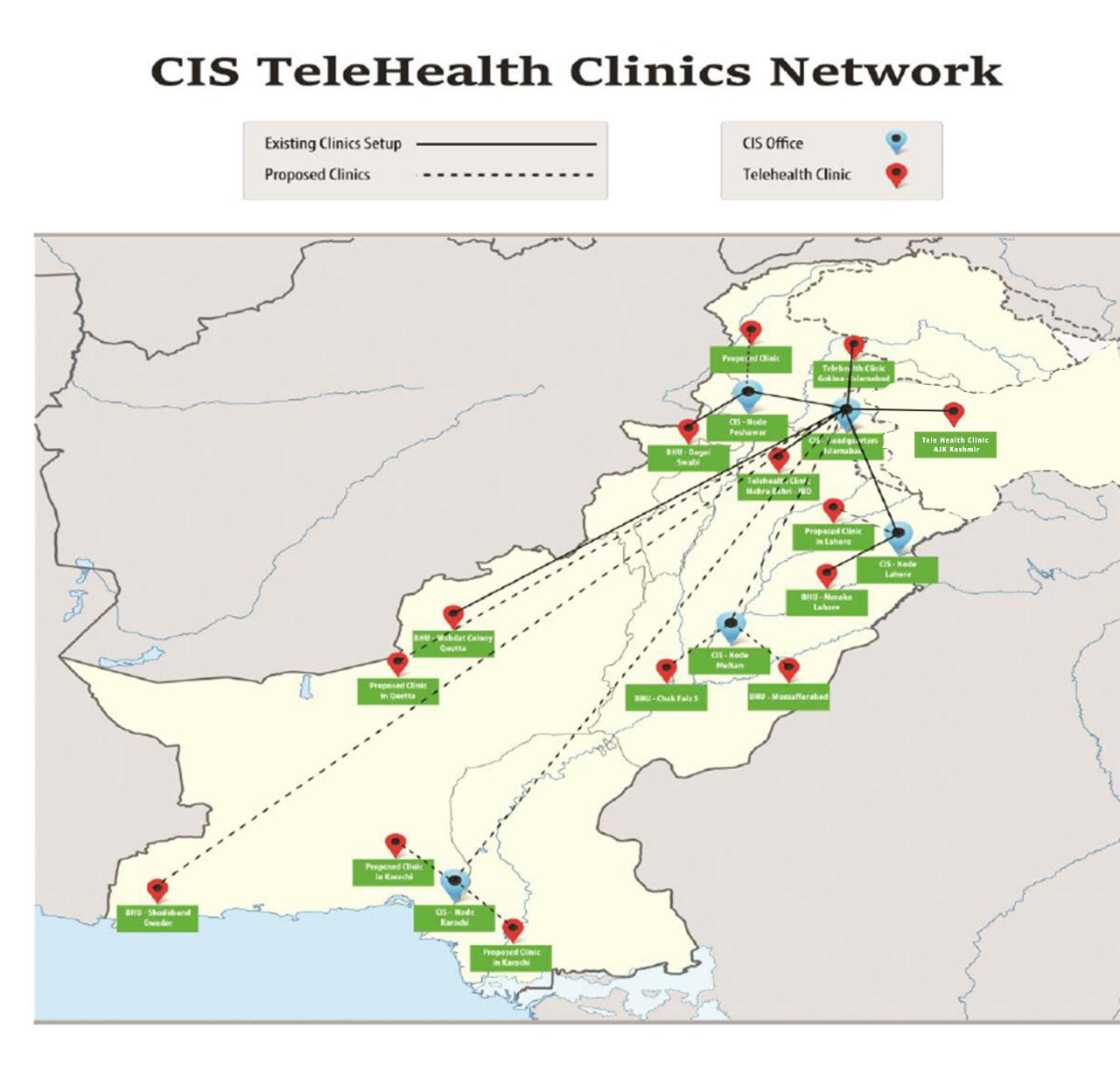 Tele Health Equipment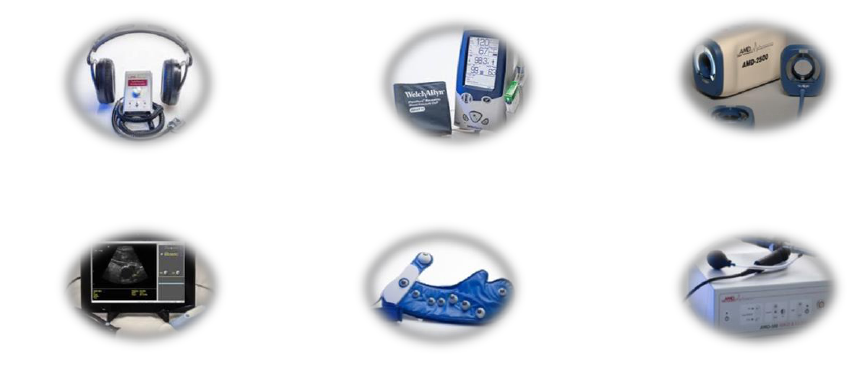 Requirement fora Tele Health clinic
a. Two rooms (14×16), furnished with necessary furniture one for Tele health setup and second as a registration cum waiting room.
b. Dedicated paramedics (LHV) preferably having computer knowledge is the minimum requirement. Data entry operator and an attendant will be required for smooth operation.
c. Each Tele-Health Clinic will be equipped with digital diagnostic equipment attached with computer. This clinic will be linked with a doctor at urban site.
d. Each doctor at urban site will be provided with computer, video conferencing facility and internet connectivity etc. At present doctors at CIS Tele health center Islamabad will provide necessary consultation.
e. All clinics will be linked with CIS Tele-Health Center Islamabad for specialist consultation.
f. Existing ICT infrastructure (PTCL, cellular services) available in the area will be further extended with wireless (Wi-Fi) to ensure availability of 2Mbps CIR internet connectivity to ensure quality video conferencing and transmission of medical data. Satellite internet link will be used where no ICT infrastructure is available. UPS, solar power will be provided as power backup.
g. Train doctors, paramedical staff and IT professionals to operate the network.
h. Doctor's prescription in printed format will be provided to the patient.
i. Patient's database will be maintained at CIS, Islamabad for future consultation with the patient.
Project benefits
Provision of medical consultation (general, specialist) to patients living in rural, mountainous and remote areas.
b. Patients will get medical advice without taking long journeys, spending money for boarding and lodging in cities and waiting for appointment.
c. It will help to screen patients and give them timely advice and warning before a disease really damages the health of a patient.
d. Diagnostic information and investigation will be helpful to know the trend of diseases and help to take timely precautionary measure.
For further detail please visit this office or contact the following

1- Mr. Abid Hussain Shah
General Manager (Admin & Human Resource)
Email: abidshah@comsats.net.pk

2- Mr. SanaUllah
Manager (Planning & Human Resource)
Email: ssirikot@comsats.net.pk
CIS Technology Park Building,
12, Shahrah-e-Jamhuriat, G-5/2,
Islamabad. Fax: +92 51 9208770
UAN: +92 51 111 700 800